NEW MUSIC proves a BIG HIT! for The Ryedale Windband
Sunday, March 26, 2017 by Robert Coates | Uncategorized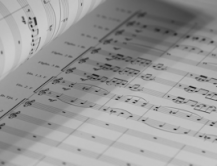 NEW MUSIC proves a BIG HIT! for The Ryedale Windband
Young musicians who attend the Saturday morning band practice are enjoying playing a new collection of great musical arrangements thanks to a donation from a collection that was made on behalf of the late Mr John Coates who passed away in January this year.
As the band is pretty much made up of just musicians who play woodwind instruments it is impossible for them to play full windband arrangements as they have no trombones, horn tubas etc. Therefore, these special musical arrangements are written for flexible ensembles in five parts and in different keys, which allow the young musicians to play a more fuller and realistic sounding musical arrangement.
The music is proving to be very popular with members and the band is really sounding great! We are currently learning to play Bohemian Rhapsody by Queen and Radioactice by Imagine Dragons. Other new titles include Chariots of Fire by Vangelis, The Pink Panther and Baby Elephant Walk by Mancini.
If there are any more young musicians out there that are interested in joining the band, please contact us now for further details, as you would be made more than welcome. It is totally free to attend! Any Brass Players Out There...?