Last Post at Ryedale School
Friday, November 11, 2016 by Robert Coates | Uncategorized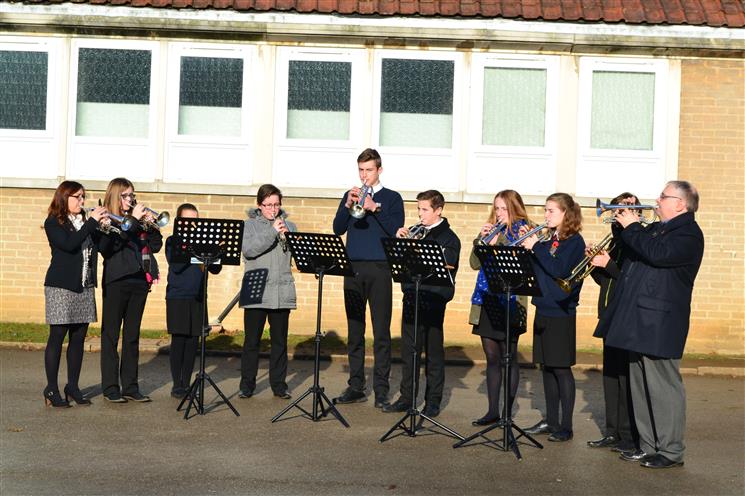 RYEDALE SCHOOL SOUNDS THE LAST POST
On the eleventh hour on the eleventh day of the eleventh month, the poignant sound of the Last Post being played, echoes through the classrooms of Ryedale school and descends over Nawton Village.
Now in its twentieth year, the tradition of the Last Post and Reveille bugle calls being sounded at the school is arranged by ex-military musician and music teacher, Robert Coates. "Every year we ask all the trumpet and cornet players in the school who are able, if they would like to join in and play in front of the whole school." said Robert. "There are some years when I have performed solo, and others where we have had a full fanfare team of trumpeters. I started playing the Last Post when I was with Swinton Band at the age of 10 years, and I can honestly say that I have performed it somewhere every year since then. It was one of my many musical duties when I was a musician in the Staff Band of The Royal Electrical Mechanical Engineers."
At one minute to eleven o' clock all of the classroom windows are opened and the young musicians are lined up on the edge of the playground trying to keep their instruments warm. On hearing the school bell, the young musicians sound The Last Post, which is followed by a complete silence through the whole school. The students and staff take this moment to reflect on the meaning of the silence, then the silence is broken by the sounding of Reveille. The windows are closed and the school returns to its normal working day.
Robert went on to say, "When I look back and reflect on the many occasions where I have performed the Last Post, whether it be at a remembrance service or funeral, the bugle call always sends a shiver down my spine. You can often feel a distinct change in the atmosphere and It is quite common to see a tear in the eye of veterans as they remember their fallen comrades, friends and family. It is very encouraging for the future to see the young people at Ryedale School paying their respects in this way, and keeping the act of remembrance alive today"